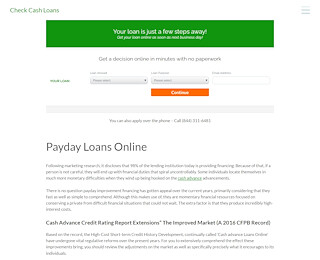 Who can qualify for payday advance loans from Check Cash Loans? You may be surprised to learn that hard-working US citizens with a steady income can apply for a payday advance and have a high likelihood of becoming approved. At Check Cash Loans, our customers refer to our agency as the best payday loan company online. If you're in need of emergency funding for bills or personal matters, our online payday lenders can get you the money you need quickly, without a lot of fees associated with the loan. Explore the free information and resources on our site or call an agent at 844-311-6481.
How To Get Approved For Our Payday Advance Loans
You'll find that we're different from other payday lenders online- our goal is the same as yours- to see your application approved so that you have access to the cash you need as a holdover until payday. We'll work with you to achieve that goal, starting with a quick and convenient online application that takes only about two minutes to complete. If you meet our eligibility requirements, our lenders will approve the loan and deposit yoru funds directly into your bank account.
Loan Requirements From Check Cash Loans
Provide your workplace and home phone numbers
You'll need a checking account in your name
Show proof that your income is around $1,000 monthly after deductions
Be a US citizen or permanent resident at least 18 years of age
Provide a functioning email address
Show a 90 day history at your workplace as a minimum
How It Works
Once you've provided the basic requirement information for same day pay loans, our agency will match you with a lender and submit all of your information to them. You'll be contacted by the lender and asked for a fax number to send information back and forth. This quick inquiry process ensures you won't have to wait long to receive an approval for your loan.
Simplicity, privacy, and security are hallmarks of our program. After your lender has approved your loan application, the loan will be transferred directly to your checking account. Payday Advance Loans are sometimes processed within one day, however, they may take longer, depending on the circumstances. Loan fees and the original loan will be automatically taken out of your checking account on the day that it's due, so you won't have to worry about how you'll get the payment to the lender.
Ready To Get Started?
Get a loan quickly today by filling out our online application or by calling an agent from Check Cash Loans at 844-311-6481. To learn more about cash advance loans and how you'll benefit from borrowing through our agency, spend a few minutes on our homepage or read FAQs provided on our site. Your loan is just a few easy steps away- you could receive your cash advance as soon as the next business day when you apply for pay check loans online through our website; if you have two minutes, you can apply for a loan right now.